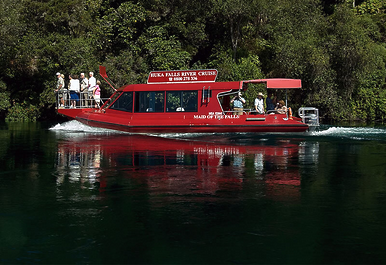 Huka Falls River Cruise is a family run business established in 2001.
Owner operators Dave and Ange Kilmister have lived in Taupo since 1995. The couple met in London on their big overseas adventure. They returned to New Zealand and visit some famous sights. After visiting many regions they arrived in Taupo where their car promptly broke down. They have been in Taupo ever since!
With a passion for tourism and the natural environment, they jumped at the chance to buy Huka Falls River Cruise in 2001. The business has grown to include more great drivers and guides, but the backbone is still rooted in family, love of place and sustaining the beauty of the natural environment.
If your booking is for the next few days, call us on 0800 278 336 to ensure your spot!
For advanced booking, please complete the contact form below.